Trim
Jump to navigation
Jump to search
[Return to Periodicals]
Background
Trim was started by Randolph Benson, one of the two founders of Grecian Guild Pictorial. (The other was John Bullock.) By 1960, Benson had sold Trim, and later Grecian Guild Pictorial, to H. Lynn Womack.
All of Womack's titles could be contacted through postal address boxes at Benjamin Franklin Station Washington, D.C. They shared similar graphic treatments and date annotation on their covers.
See also The Trim Studio Quarterly.
Typography
Cover typefaces
Interior typefaces
Collected issues
Trim Publishing Co.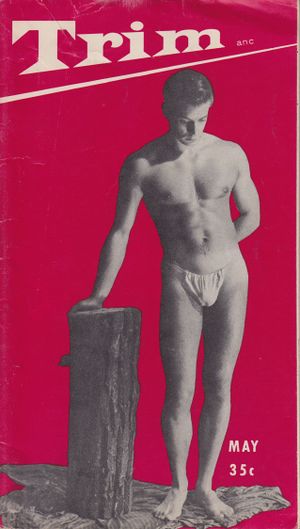 Trim, vol. 1 no. 2 (May 1957)
Trim, vol. 1 no. 3 (August 1957)
Trim, vol. 1 no. 5 (December 1957)
Trim Enterprises
Trim 35 (December 1963)
Trim 36 (February 1964)
Trim 38 (August 1964)
Trim 51 (August 1966)